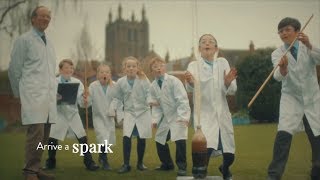 We all want the best for our children. We also understand that choosing a school is an incredibly important and difficult decision. Let us tell you some of the qualities we believe make Hereford Cathedral Junior School stand out among the rest.
Located in the heart of Hereford in Cathedral Close, we are lucky to be in a beautiful and tranquil setting. When your child arrives, they will be greeted with a warm and inviting atmosphere where their fellow pupils are curious, respectful and happy.
Our emphasis is on engaging our children to be independent and curious learners. With specialist teaching staff and an excellent range of facilities and resources, we are able to deliver tailored teaching for every child, enabling them to fulfil their potential.  
We could not be more delighted with the care and attention the staff and pupils have shown our daughter. She continually grows in confidence and ability.
Creating happy children
Happy children learn more. We actively seek to build partnerships between parents, pupils and staff to ensure the wellbeing of our pupils. Whilst excellent teaching is at the heart of what we do, ours is a holistic education, which extends beyond just academic performance. A love of learning and a child's happiness is key to becoming a well-balanced person later in life. 
A focus on values
Developing well-rounded children who are successful and happy requires something else of incredible importance...values. Traditional values such as good manners, honesty, integrity, kindness and consideration for others are all cultivated within our safe and caring environment. We feel our Junior School's greatest strengths lie in our unique approach to education, focusing on the child and their personal ambition, instead of treating the whole class as one entity. This personal approach is what develops strong values, happiness, and a love of learning.
Become a member of our family
Starting junior school can be a daunting time for children. We aim to make that transition as simple as possible and have cultivated a friendly and welcoming atmosphere where children make friends with ease, enjoy their learning and develop the confidence to grow and succeed. We like to think of our school as a family and while your child will arrive a member of your family, they will quickly become a member of ours.

You are warmly invited to visit and see for yourself and I look forward to meeting you soon.
Helen Hoffmann, Junior School Headteacher