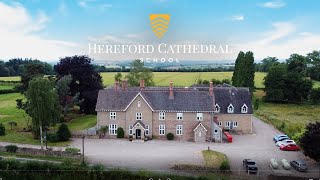 Our boarders enjoy being part of a boarding house with a warm, family atmosphere where we ensure they feel safe and well looked after throughout their time with us.
The boarding house is situated near to Hereford city in a beautiful Georgian building which has been fully refurbished with all modern amenities. The house is superbly equipped with a large common room, dining room, kitchen areas for making snacks and WiFi access throughout. The extensive grounds are ideal for group activities and for pupils to relax and explore.
Our exceptional pastoral care ensures a home-from-home experience for our students. Boarding house pupils are cared for by our experienced and dedicated Housemistress, Resident Tutor and Matron.
Full boarding is available to pupils in Years 9 to 13. Please enquire below if you would be interested in flexi or weekly boarding.
I would describe my time here as delightful, relaxed and interesting!
BEDROOMS
Bedrooms are a mixture of single, twin and quad rooms, all with en-suite facilities. Pupils can enjoy adding their own personal touches to make sure they feel at home. 
CATERING
Our oak-panelled dining room provides a homely setting for communal meals. Pupils eat lunch in the school dining hall or sixth form café during the week, and return to the boarding house to enjoy dinner with their friends. Separate boys' and girls' kitchen areas are available for pupils to make their own snacks.
TRANSPORT
Pupils are transported to and from school in school minibuses, at the beginning and end of each school day. There are also school minibuses available for trips into Hereford at the weekend.
EXCURSIONS
House life is busy, packed with fun activities for pupils to enjoy. As well as the sporting and extra-curricular opportunities on offer at school, our boarders enjoy a full programme of social activities during evenings and weekends. These include quiz and film nights on-site, and a range of trips to local attractions and events. There are also excursions to cities such as Oxford, Bath, Cardiff, Manchester and Liverpool.
The best things about boarding at Wilmot House are being able to know pupils from all around the world, the top notch facilities and the friendly teachers. The boarding house is vibrant, warm and homely - it makes me feel very welcome and happy.
The boarding house is fun, comfortable and cosy. Boarding at Hereford Cathedral School is very fun!
The best things about boarding here are the learning environment (because it's peaceful) and that it is homely and exciting.