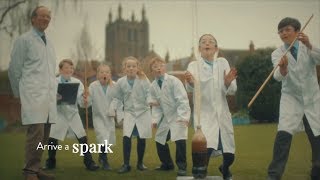 There has never been a more exciting time to join the Senior School at HCS. At the heart of our vision and values is an unrelenting focus on holistic education which includes outstanding examination results, a commitment to character education, and a remarkable breadth of opportunities both inside and outside of the classroom.
There's certainly no such thing as a typical day here. Pupils might study subjects as diverse as Latin and Computer Science at GCSE, while choosing to learn Mandarin off-timetable; they might play in the string or brass ensemble at lunchtime on one day, join the Debating Society on another, or perhaps join the 'Roots and Shoots' gardening club after that. When lessons finish, there is no shortage of opportunities, with many pupils trying out new sports and activities for the very first time. 
Hereford Cathedral School has a national and global reputation for excellence. Our choir routinely sings in some of the most prestigious venues around the world, and our rowers recently won the National Schools Regatta. All of our staff are absolutely committed to bringing out the very best from the pupils, and support and nurture them in both their academic and extra-curricular endeavours.
All children have something special - and here the teachers help them find it.
What you will find at Hereford Cathedral School is a caring and conscientious community where lifelong friendships are made, and where life-changing opportunities are experienced. We believe that the very best education is a partnership between school and family; we believe it is an honour and privilege to educate young people and to prepare them for life. We do hope that you will join us in this journey.
Dr Michael Gray, Headmaster